Laskar Pelangi Film Presentation from IASI and VHS Braunschweig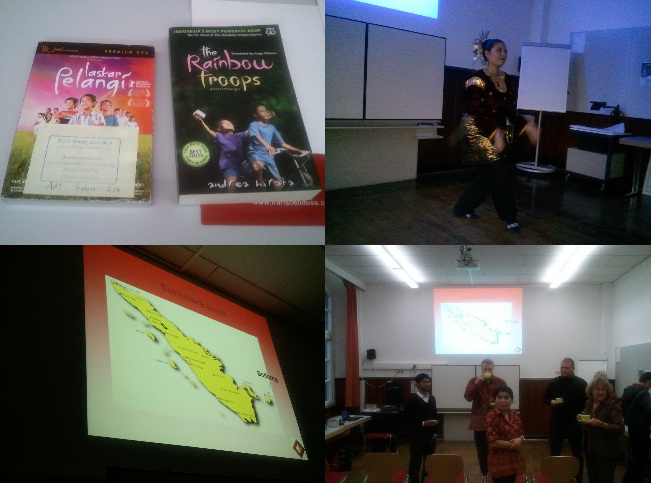 Commemorating the heroes day (hari Pahlawan) on Saturday, Nov 11, 2012, IASI e.V. and Volkshochschule (VHS) Braunschweig presented an afternoon meeting at VHS building in Braunschweig city center.
VHS is German adult education center, financed by the regional government in many cities across Germany. The language department of VHS Braunschweig offers the courses of Bahasa Indonesia for adults. This class is lead by Mrs. Mimi Schlüter. Sie is originally from Minangkabau and is the coordinator for IASI e.V. in Braunschweig and surrounding areas.
IASI and VHS Braunschweig decided to present Laskar Pelangi (The Rainbow Troops). It is a 2008 Indonesian film adapted from the popular same titled novel by Andrea Hirata. The movie follows a group of 10 schoolboys and their two inspirational teachers as they struggle with poverty and develop hopes for the future in Gantong Village on the farming and tin mining island of Belitung off the east coast of Sumatra. The film is the highest grossing in Indonesian box office history and won a number of local and international awards.
Before watching the film, the audience (from IASI, VHS and the Indonesian community in Braunschweig) was entertained by a traditional Minangkabau dance as a tribute to the local heroes combating in the fields in West Sumatera against the Dutch colonialism.
IASI has explained the initial situation of Belitong Island as a poor island exploited from the Indonesian center government through PT Timah, government based company engaged in integrated tin mining operations, including the exploration, mining, smelting and marketing of its products to customers overseas.
Laskar Pelangi has helped Belitong Island to change into a local tourist destination due to its breathtaking natural beauty. This film has become a truly marketing tool, supported by the local government, who is aware of the changes the island needed. Today people may visit the island and enjoy the scenery, the beach, and the small archipelago just off the coast.
After the film the audience has a small discussion on the education in Indonesia. There is still a lot to do. IASI explained that several private organisations have been trying to help the local schools in the outskirt areas in different islands. More of this will be discussed and reported on the next IASI activities in 2013.
IASI visit in Braunschweig was represented by Mimi Schlüter and Muller Manalu. Kindly contact us for any further information.