ICT Day Hamburg 13.03.2015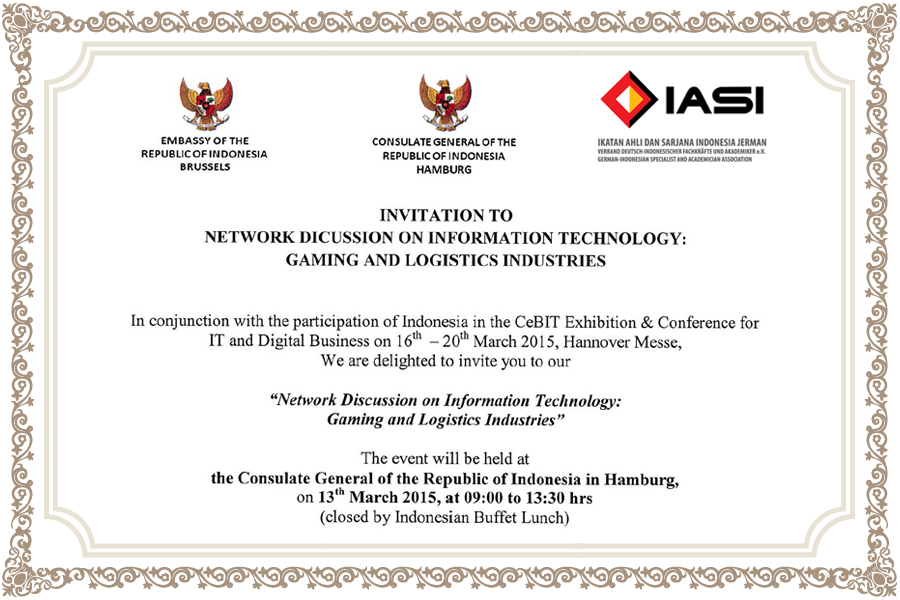 KBRI Brussel, KJRI Hamburg dan IASI e.V. mengundang rekan-rekan IASI untuk hadir dalam acara: "Network Discussion on Information Technology: Gaming and Logistics Industries".
Acara ini melibatkan para Praktisi, Investor dan Industrialis IT di Hamburg dan Asosiasi IT Industri di Indonesia.
Acara membahas Tema:
1. Potensi Market dan Industri ICT di Indonesia dan Jerman khususnya Hamburg
2. IT solusi untuk masing-masing ICT Industry Branch: Games Industry, IT Logistics dan Big Data
3. Business to Business Meeting antara ICT Industri Indonesia dan Jerman
Acara diadakan sebagai berikut:
Hari dan Tanggal : Jumat, 13.03.2015
Pukul : 09:00 sampai 13:30
Tempat : KJRI Hamburg, Bebelallee 15, 22299 Hamburg.
Bagi anggota dan pengurus IASI atau siapapun yang tertarik maka dimohon menghubungi kami atas nama: m.iman.santoso@iasi-germany.de atau ferizal.ramli@iasi-germany.de
Dikarenakan acara amat eksklusif dan tempat yang tersisa buat undangan IASI tinggal 5 peserta maka dimohon untuk secepatnya menghubungi pihak IASI untuk pendaftaran.
Hormat Kami
Ferizal Ramli
Ketua Umum IASI